Species diversity is typically closely associated with productivity and healthy ecosystems.  Alabama is blessed with some of the greatest aquatic diversity found anywhere in the world, and the coastal plain rivers of southeast Alabama are part of this treasure.  The Choctawhatchee-Pea River supports about 80 species of freshwater fish, while the Yellow River has been documented to contain nearly 50 different species. 
Table 1 indicates the different fish species and numbers collected during an electrofishing survey conducted in 2012 by the Fisheries Section of the Alabama Division of Wildlife and Freshwater Fisheries.  Table 2 contains several fish species that are commonly found in these river systems but were not collected in this survey.  A comprehensive list of fish species collected from all Alabama rivers can be found in the book: Fishes of Alabama and the Mobile Basin" by Maurice F. Mettee, Patrick E. O'Neil, and J. Malcolm Pierson.
Articles related to the aquatic diversity of the Choctawhatchee-Pea-Yellow Rivers can also be found at www.outdooralabama.com by searching "Choctawhatchee River".
| Scientific Name | Common Name |
| --- | --- |
| Ichthyomyzon gagei | Southern lamprey |
| Alosa alabamae | Alabama shad |
| Dorosoma cepedianum | Gizzard shad |
| Dorosoma petenense | Threadfin shad |
| Ctenopharyngodon idella | Grass carp |
| Cyprinella venusta | Blacktail shiner |
| Hypentelium etowanum | Alabama hog sucker |
| Ameiurus natalis | Yellow bullhead |
| Aphredoderus sayanus | Pirate perch |
| Trinectes maculatus | Hogchoker |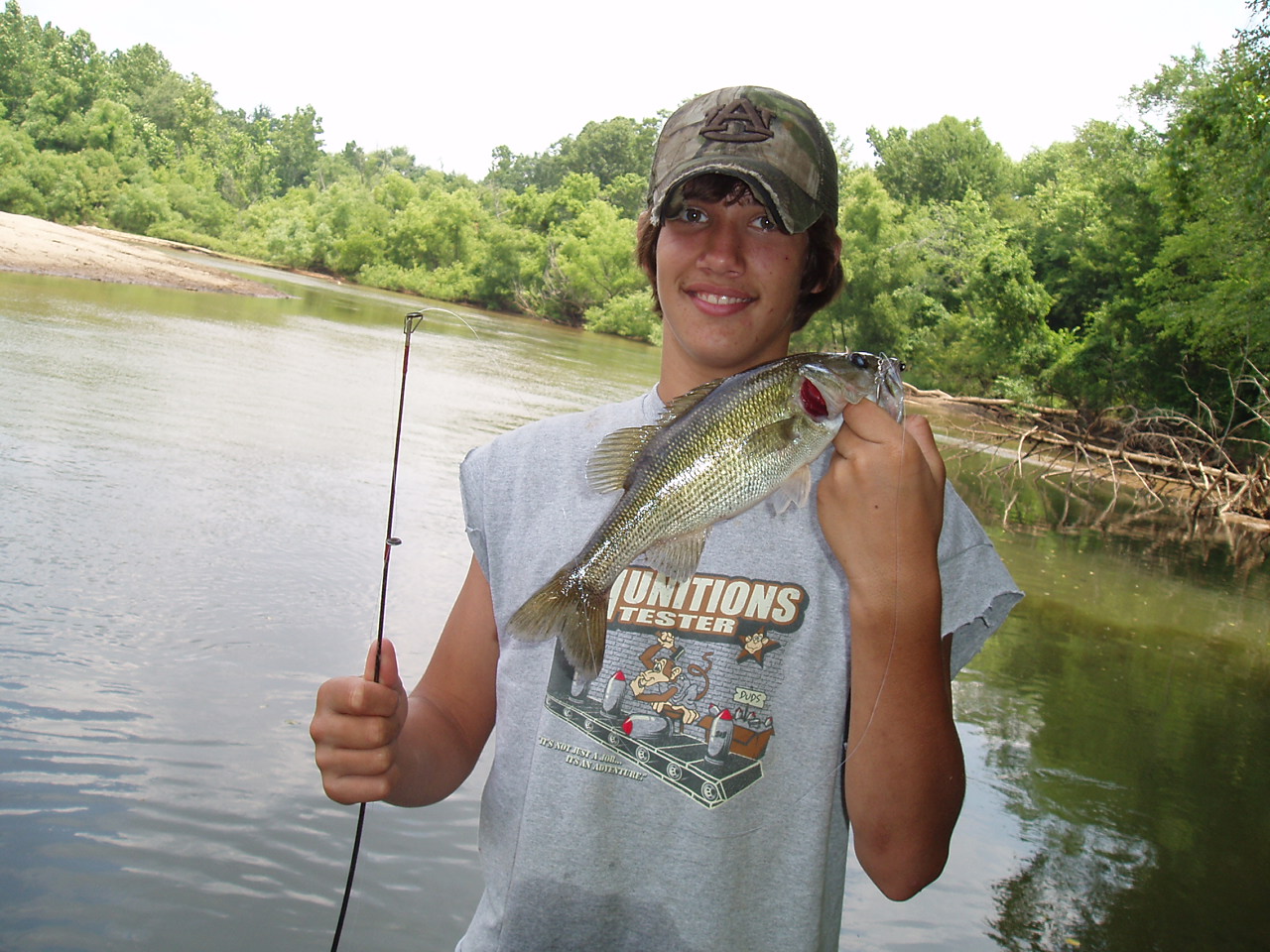 | Scientific Name | Common Name | Clayhatchee Landing | Spann's Landing |
| --- | --- | --- | --- |
| Acipenser oxyrinchus desotoi | Gulf sturgeon | | 2 |
| Alosa chrysochloris | Skipjack herring | 1 | 1 |
| Ameiurus serracanthus | Spotted bullhead | | 2 |
| Ameiurus nebulosus | Brown bullhead | | 8 |
| Ambloplites ariommus | Shadow bass | 1 | 3 |
| Amia calva | Bowfin | 3 | 2 |
| Ammocrypta bifascia | Florida sand darter | 1 | 1 |
| Anguilla rostrata | American eel | 2 | 5 |
| Carpiodes cyprinus | Quillback | 19 | 13 |
| Carpiodes velifer | Highfin carpsucker | 24 | 34 |
| Cyprinella venusta | Blacktail shiner | 39 | 9 |
| Ctenopharyngodon idella | Grass carp | | 3 |
| Dorosoma cepedianum | Gizzard shad | 5 | |
| Dorosoma petenense | Threadfin shad | | 1 |
| Esox americanus | Redfin pickerel | 1 | |
| Esox niger | Chain pickerel | | 1 |
| Ictalurus punctatus | Channel catfish | 5 | 25 |
| Lepisosteus osseus | Longnose gar | 12 | 9 |
| Lepisosteus oculatus | Spotted gar | 1 | 4 |
| Lepomis auritus | Redbreast sunfish | 15 | 14 |
| Lepomis cyanellus | Green sunfish | 2 | |
| Lepomis gulosus | Warmouth sunfish | 1 | |
| Lepomis macrochirus | Bluegill sunfish | 33 | 9 |
| Lepomis megalotis | Longear sunfish | 30 | 20 |
| Lepomis microlophus | Redear sunfish | 25 | 6 |
| Lepomis miniatus | Redspotted sunfish | 1 | 1 |
| Micropterus punctulatus | Spotted bass | 7 | 11 |
| Micropterus salmoides | Largemouth bass | 7 | 5 |
| Minytrema melanops | Spotted sucker | 24 | 5 |
| Morone saxatilis | Striped bass | 1 | |
| Moxostoma poecilurum | Blacktail Redhorse | 51 | 65 |
| Mugil cephalus | Striped mullet | 7 | 13 |
| Notorus leptacanthus | Speckled madtom | 0 | 1 |
| Percina austroperca | Southern logperch | 1 | 1 |
| Percina negrofasciata | Blackbanded darter | | 1 |
| Pomoxis nigromaculatus | Black crappie | 4 | |
| Pylodictis olivaris | Flathead catfish | | 1 |
| Strongylura marina | Atlantic needlefish | 1 | 2 |
| Total | | 324 | 278 |