Geology
The Choctawhatchee, Pea and Yellow Rivers Watersheds cover approximately 3,637 square miles of the Alabama Coastal Plain. The geologic history of the area has been influenced by the Appalachian Mountains and the Gulf of Mexico. The watersheds are underlain by coastal plain sediments composed of sand, clay, and limestone that vary in thickness from approximately 2,000 feet along the northern margin of the watershed to more than 5,000 feet at the Florida state line along the southwestern margin of the watershed area. These coastal plain sediments have been divided into 25 different geologic units that vary in age from Cretaceous (deposited approximately 100 million years ago) to Holocene (recent alluvial sediments that are being deposited today). Coastal plain sediments are underlain by much older geologic units composed of metamorphic and igneous rocks. The geology of the area is of great importance for economic development and quality of life by providing rich soils for agriculture, construction materials, and public, industrial, and agricultural water supply.
Topography and Soils
The basins are characterized by their topography of gentle to moderately rolling hills in the upper northern portion with crests about 600 feet above sea level. The influence of the Southern Red Hills region may be observed in the northern and western portions of the watersheds. Ridges in these areas are relatively steep and narrow with slightly increased elevations and topographic relief. The lands, excluding some of the flood plains, are well drained and conducive to the growth of row crops and for use in other agricultural pursuits.
Climate and Rainfall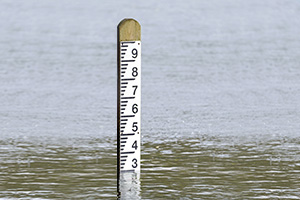 In the Choctawhatchee, Pea and Yellow River basins, the climate is mild in winter and hot and humid during the summer. The average daily temperature varies from 50 degrees Fahrenheit in December to 91 degrees Fahrenheit in July and August.
Monthly rainfall during the four wettest months of June through September averages nearly six inches. In October and November, rainfall averages 3.5 inches. A maximum 24-hour precipitation of 20 inches was recorded at Elba, Alabama in March 29, 1929.